Recent Article
Latest News Bits
User Created Meshes
Posted 3 years ago
You can now upload meshes to ROBLOX to use in your game! Textures can be applied as well.
Powered by
RoGo is not associated with the content contained on this website and/or the respected owners.
All trademarks, property, and copyrights belong to their respective owners, namely ROBLOX, Inc.
.
Posted in Editorials
November 24, 2015 at 12:00 PM
Verbatim (Series 2, Issue 3)
By Superale24
Editors: Dornbaum, Ali0426, Wafflzdude and Gamerdude5
Hello again! I'm Superale24 and here is Verbatim Series 2, Issue 3! If you haven't heard of this series already, where have you been? Still, it's a pleasure having you here on our merry RoGo boat (or you could also call it a rowboat *ba dum tsk* (huh huh get it because it's RoGo and so it's a Ro-boat huh huh huh) Here, we discuss a wide range of ROBLOX-related things like games, the catalog, updates, and RoGo news. As always, enjoy!
---
GAMES
Let's reflect on some games that have emerged this week, such as MeepCity: STAR BALL OBBY and Stealth by Mailbox Games!
Here's a quick overview of the two games. In MeepCity: Star Ball, you maneuver your own customizable ball around several tracks, which increase in difficulty as you progress. I've spent a lot of my time trying to get on the worldwide leaderboard, but as you can see by checking it, I've failed. Maybe you can try and get the next top score!
Stealth is a masterfully made open-world game where you can become an assassin. Killing, earning bounties, and just looking cool in your cloak makes this game hard to put down. Also, climbing up buildings and standing in a hunting position while planning how to kill your enemy in the stealthiest way possible is so darn fun! (And 9000 simultaneous online players agree!)
---
CATALOG GOODIES
In the words of a certain Warner (90′s kids jokes, y'know) "It's that time again!", Santa is almost in town! Be sure to check out our present tracker in December to get the latest details on new gifts, such as prices, images, and our guesses! See you then!
---
ROBLOX UPDATES
There were two very exciting updates to ROBLOX over the past few days: a new chat/party system and new physics!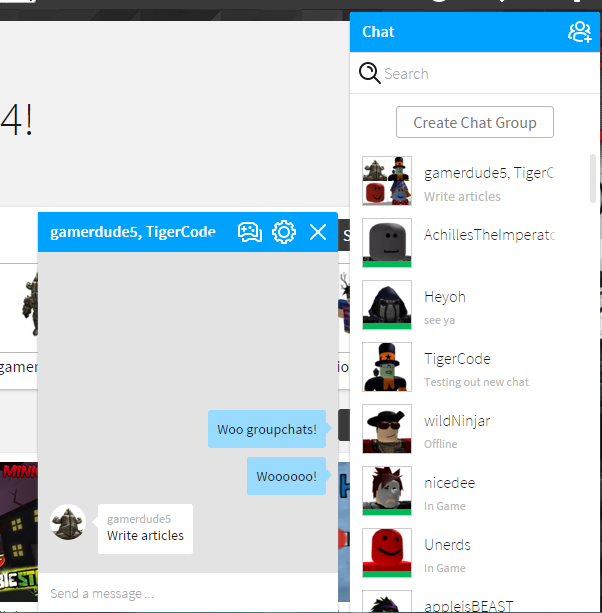 You can check out our article covering the new chat system soon. (This Verbatim will be updated when it is released). To sum up the new physics update, it makes ROBLOX parts move more realistically! With this new update, you can make very intricate machines that you couldn't have made before! Check out the video below to see the new physics in action!
---
ROGO TIDBITS
Red is looking fabulous as always.
Also happening in our wonderful RoGo World is the hiring of new staff and the promotion of my bro Aedranoth! Go check out our October Update Article and say hello to the new faces at RoGo Magazine!
Also, one of our newly hired staff member, HttpAbbey, has wonderfully and descriptively put together an article that is part of a new series called Clothing Spotlight. There, she covers snazzy attire that fit just dandy! Go check it out here!
Speaking of clothing, check out Gidein's (the President of Kestrel?! What's he doing here?!) very well-made article detailing some stylish Kestrel wear. Click here to take a look!
Finally, Zytx has explained the process of getting YOUR articles on OUR blog! I mean, who doesn't want to write articles for RoGo? Trust me, I know you do!
And remember readers! Red says:
---
ROGO FAN ART
In this section, I will add RoGo fan art made by you guys! It can be anything, from our logo with cool added details, or a picture of our glorious Red The Red Panda! Just tweet your pic using the hashtag #RoGoFanart and I will see it! There will usually be 2-3 pictures per Verbatim and you can either use a computer program like paint.net or draw it by hand. Happy drawing!
---
Well, that's all folks! Thanks for tuning in to the third issue of Series 2 Verbatim! After 34 total revisions by our RoGo Staff, I'm glad it finally came out! I hope you've enjoyed reading this article as much as I had writing it and I appreciate feedback! Anything I should add? Let me know! Now let's keep rolling with this series! Again, thanks for reading and remember, praise Red! Until next time, ciao!