Recent Article
Latest News Bits
User Created Meshes
Posted 3 years ago
You can now upload meshes to ROBLOX to use in your game! Textures can be applied as well.
Powered by
RoGo is not associated with the content contained on this website and/or the respected owners.
All trademarks, property, and copyrights belong to their respective owners, namely ROBLOX, Inc.
.
Posted in Editorials
August 16, 2015 at 12:00 PM
Verbatim (Series 2, Issue 1)
By Superale24
Editors: Wegggieninja, Gamerdude5 and Calig13
Hello readers! I, Superale24, bring you back Verbatim, a bi-weekly recap of current ROBLOX events! Please note, Verbatim is just a brief overview of the week, so everything is short and sweet. If I talk about a game, I don't do the review, that's for another article, another day.  Also, this is a bit of an editorial too, as I talk about current events and such. So without further adieu, I bring you Verbatim!
---
GAMES
Of course, Dragon Rage by Tiger12289 (Hey, that's my boss!), along with The Normal Elevator by DoTheHarlemShake, were popular games last week. In Dragon Rage, dodging dragons that send you hurtling into space is exciting! While most enjoy the normal gameplay experience of visiting floors in The Normal Elevator, I enjoy the secret story of Gavin. What's that, you ask? Find out for yourself! Switching over to Mashables by Tinarg, which was available for quite a while until a surprising HUGE increase of players got it all the way to the front page! In Mashables, simply put so we can cover it further in a full article, you are tasked with building a body part of a monster, which you then try to survive while it tries to capture you! Talk about irony, huh?
Skip to this week, Whatever Floats Your Boat , Bloodfest , and Apocalypse Rising (in that order) got a sudden boost to the front page. Check out our Bloodfest article and Apocalypse Rising article, too!
---
CATALOG GOODIES
This week, many anime-themed faces and hairs have been released. Go buy them and be the most kawaii person of them all!
(Pardon the short and sweet. This will generally be long when there are new limiteds or talked-about hats (etc. a new Dominus).
---
 ROBLOX UPDATES
ROBLOX has recently released new colors in studio for a more colorful experience!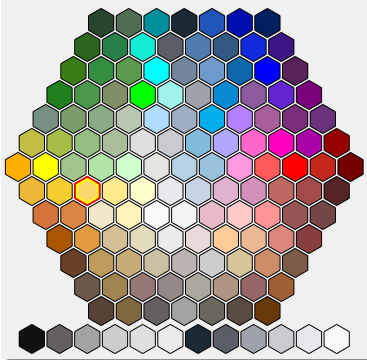 Check this wiki article to see more! On smaller updates, ROBLOX has removed the ability to buy Lifetime and 6 Month OBC memberships. ROBLOX has also removed the Kills and Wipeouts statistics. Many users, as always, question these updates. What do you think?
---
ROGO TIDBITS
Red is looking wonderful as always.
We also wrote a review on Bunny Island by BizzarreBlackout01 and MrAtomikBlaster has continued his popular Beginner Lua Lessons with teaching us the difference between local and server scripts. Then, check out these four amazing showcases you MUST see found by JenniferHartson. She also made an AMAZING article comparing Apocalypse Rising and Dead Mist. Go check them out! In RoGo News, we released RoGo Bits , where we post snippets of new information from ROBLOX, likes updates, that are too small for a regular article.
---
ROGO FAN ART
In this section, I will add RoGo fan art made by you guys! It can be anything, from our logo with cool added details, or a picture of our glorious Red The Red Panda! Just tweet your pic using the hashtag #RoGoFanart and I will see it! There will usually be 2-3 pictures per Verbatim and you can either use a computer program like paint.net or draw it by hand. Happy drawing!
---
Well, that's all folks! Thanks for tuning in to the first Series 2 Verbatim! I hope you enjoyed this new type of article and I appreciate feedback! Should I add another topic? Let me know! Again, thanks for reading! Remember, praise Red! Until next time, ciao!