Recent Article
Latest News Bits
User Created Meshes
Posted 3 years ago
You can now upload meshes to ROBLOX to use in your game! Textures can be applied as well.
Powered by
RoGo is not associated with the content contained on this website and/or the respected owners.
All trademarks, property, and copyrights belong to their respective owners, namely ROBLOX, Inc.
Showing posts for the month of: June 2017
.
Mad Studio Strikes Big with their Newest Game
Posted 4 years ago by Ziggyblock
Posted in Reviews
Loleris has done it again! Mad Studio has pushed their way to the front page with their newest game, Mad Games. Not all of their games are as huge hits as their 30+ million times visited The Mad Murderer, but this one seems to be on it's way to being one of the their best. After being only out for a short period of time, the game has already raked in over 1 million visits.  This time around you get a little bit of everything.…
.
Dodgeball is Back With More Fun!
Posted 4 years ago by Superale24
Posted in Reviews
Hello readers! I started writing this article as soon as the launch party started! Alexnewtron has yet again cooked up a great game with an amazing hype, and boy was it well deserved! DODGEBALL is a remake of his original dodgeball game, but with more features and excitement! I'll be covering every detail; from gameplay to the store. Here is DODGEBALL!
---
Gameplay DODGEBALL is pretty much self explanatory and very simple:
Using balls to launch at your enemies, you must eliminate the other team.…
.
Interview with MunicipalLaw
Posted 4 years ago by Fly10101
Posted in Interviews
After the depart from the State of Rockport and The Robloxian Cops, we caught up to FedoraMasterB98, now known as MunicipalLaw. Read on to find the future of Municipal and his journey.
…
.
PEARS to PAIRS
Posted 4 years ago by MattkipMedia
Posted in Reviews
So anybody here ever heard of a little game called 'Apples to Apples'? I have, and honestly, it's a blast. Essentially, one player picks a green card, an adjective, and each other player has a hand of six red cards, nouns. Each player picks a red card that relates to the green card the most, and it's an incredibly fun party game where you have to gauge how funny a card is between how accurate it is to the adjective.
For example, about a week ago, I was playing a game of Apples to Apples.…
.
Kestrel Clothing Review: Black Three Buttoned Suit
Posted 4 years ago by Superale24
Posted in Partner Promotions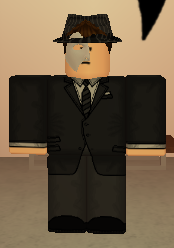 Hello readers! I am proud to announce our first fashion review article for our partnership with Kestrel, written by Fashion Analyst/Author Superale24 (me). I would like to start off this series by reviewing one of my favorite suits, which I always wear for casual and formal apparel: The Kestrel Black Three Buttoned Suit w/ matching pants.
OVERVIEW
This elegant piece of clothing is made by the famous ExtendFlame, a well known designer at Kestrel for always bringing great suits, at the price of 100 TIX (for each piece).…
.
Anticipated Games of Summer 2015
Posted 4 years ago by InsanelyLuke
Posted in ROBLOX News
Hey RoGo Readers! Now that summer is in full swing, ROBLOX developers are getting more time to work on their amazing creations and share them with you. I've found 5 games that will be coming out this summer that I think are particularly noteworthy in their own awesome ways. Some will be releasing very shortly, while others might not even get released this summer. Either way, each game on this list has its own special appeal that I think each of you should check out at least once.…
.
Get some fish in Fishing Simulator!
Posted 4 years ago by DerAtomik
Posted in Reviews
Just as the title suggests, you go fishing! Sounds kind of boring, right? Why would you pay for such a game? Is it really worth it? I'm here to answer those questions for you today!
Objective and Gameplay
You catch fish, and then you sell them for money. You use this money for upgrading your rod, boat,  buying bait, and inventory space. But, you can always spend more ROBUX to get more cash and inventory space.…
.
Posts in this archive cannot be found.