Recent Article
Latest News Bits
User Created Meshes
Posted 3 years ago
You can now upload meshes to ROBLOX to use in your game! Textures can be applied as well.
Powered by
RoGo is not associated with the content contained on this website and/or the respected owners.
All trademarks, property, and copyrights belong to their respective owners, namely ROBLOX, Inc.
Showing posts for the month of: August 2017
.
Verbatim (Series 2, Issue 1)
Posted 4 years ago by Superale24
Posted in Editorials
Hello readers! I, Superale24, bring you back Verbatim, a bi-weekly recap of current ROBLOX events! Please note, Verbatim is just a brief overview of the week, so everything is short and sweet. If I talk about a game, I don't do the review, that's for another article, another day.  Also, this is a bit of an editorial too, as I talk about current events and such. So without further adieu, I bring you Verbatim!
---
GAMES
Of course, Dragon Rage by Tiger12289 (Hey, that's my boss!), along with The Normal Elevator by DoTheHarlemShake, were popular games last week.…
.
Apocalypse Rising vs. Dead Mist
Posted 4 years ago by JenniferHartson
Posted in Reviews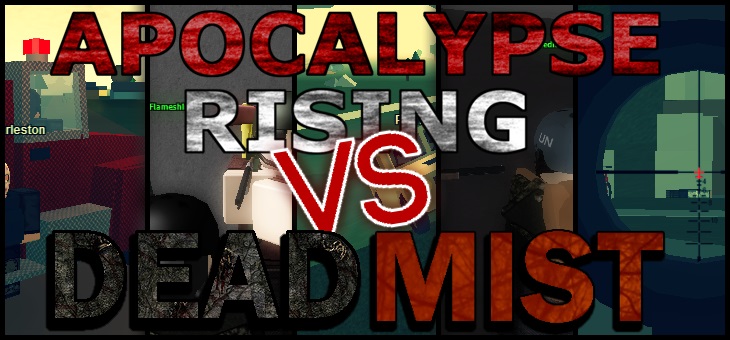 Apocalypse Rising (created by Gusmanak and ZolarKeth) and Dead Mist (created by petro180) are hailed to be the two most realistic and accomplished post-apocalyptic survival games on ROBLOX. Surprisingly, both are based strongly on the game DayZ. With Apocalypse Rising having been in the spotlight of zombie games since its inception, and Dead Mist arguably revolutionizing the very concept of survival, there is no doubt that these two games could potentially be equal rivals. If Apocalypse Rising has ever met its match, it has now.…
.
Four Amazing Showcases You MUST See
Posted 4 years ago by JenniferHartson
Posted in Reviews
Developers and builders all around ROBLOX were once held in the highest regard, and their artwork perceived as masterpieces. With an increasingly invasive wave of new games that have little detail and/or are flooded with free models, it becomes harder to sift through the dirt and find the diamond in the rough.
Throughout my years on ROBLOX, I have discovered many showcase masterpieces that define the very spirit of art itself. Among the many games which I have discovered, there are a few that stand out from the rest.…
.
Beginner Lua Lesson 8: Difference between Server and Local Scripts
Posted 4 years ago by DerAtomik
Posted in Tutorials
Welcome back! It's been awhile since I wrote a Beginner Lua Lesson! Nevertheless, it's time to learn about the differences between server and local scripts!
What is a local script?
A local script (class name of LocalScript), is a script that will only run when it is in a player's PlayerGui folder (where ScreenGUI's go), in a Tool/HopperBin that is in a player's Backpack, or when the Local Script is in a player's Character Model.…
.
Posts in this archive cannot be found.