Recent Article
Latest News Bits
User Created Meshes
Posted 3 years ago
You can now upload meshes to ROBLOX to use in your game! Textures can be applied as well.
Powered by
RoGo is not associated with the content contained on this website and/or the respected owners.
All trademarks, property, and copyrights belong to their respective owners, namely ROBLOX, Inc.
Showing posts in Category: Reviews
.
October 2015 Hats of the Week! The Best Eerie Hats for Halloween!
Posted 3 years ago by MahBucket
Hello, and welcome to the first in a series of monthly reviews, making note of the best, and most popular hats that came out in the past month!
As always, October's hats all center around Halloween. Throughout the whole month, players can be seen dressed as monsters, pumpkins, witches, and ghosts can be seen wandering through the games on ROBLOX. Here's some of the best new hats you can wear to join the fray!
---
Grate Pumpkin
Appearance: A truly eerie looking pumpkin with a grate for a mouth and a wrinkled witch hat.…
.
RoGo Staff Summer Game Picks!
Posted 3 years ago by Superale24
Hello readers! Superale24 here to bring you a special article, where our "devilishly handsome" staff (as our manager, gamerdude5, puts it) have volunteered to share their favorite games of the summer, whether it's a new top hit or a classic they played again and again! We hope that you try out these games too, and enjoy the article!
---
Pick by: FluffyViloxus
Tradelands is very immersive RPG where you are either a swashbuckling pirate, or an aspiring merchant of the seas.…
.
Apocalypse Rising vs. Dead Mist
Posted 4 years ago by JenniferHartson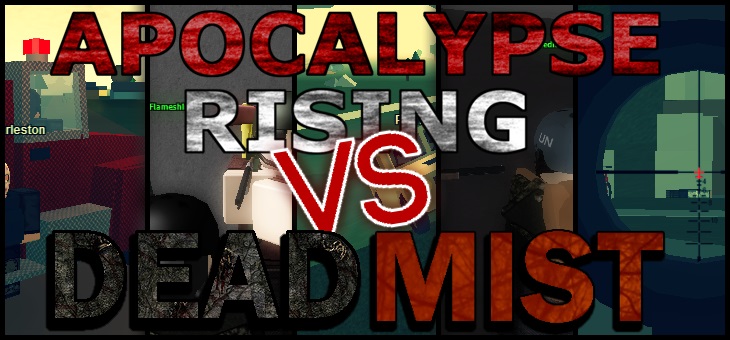 Apocalypse Rising (created by Gusmanak and ZolarKeth) and Dead Mist (created by petro180) are hailed to be the two most realistic and accomplished post-apocalyptic survival games on ROBLOX. Surprisingly, both are based strongly on the game DayZ. With Apocalypse Rising having been in the spotlight of zombie games since its inception, and Dead Mist arguably revolutionizing the very concept of survival, there is no doubt that these two games could potentially be equal rivals. If Apocalypse Rising has ever met its match, it has now.…
.
Four Amazing Showcases You MUST See
Posted 4 years ago by JenniferHartson
Developers and builders all around ROBLOX were once held in the highest regard, and their artwork perceived as masterpieces. With an increasingly invasive wave of new games that have little detail and/or are flooded with free models, it becomes harder to sift through the dirt and find the diamond in the rough.
Throughout my years on ROBLOX, I have discovered many showcase masterpieces that define the very spirit of art itself. Among the many games which I have discovered, there are a few that stand out from the rest.…
.
Welcome to Bunny Island!
Posted 4 years ago by Bizzarreblackout01
Welcome to Bunny Island! This theme park has taken ROBLOX creations to a whole new level! Don't take my word for it just yet? Let's take a look, shall we?
Gameplay
Bunny Island has many different rides, attractions, shops, and areas to choose from! You can start your shift as a ride operator or shop owner:
Or you can walk around and explore all the themed lands and scenery!
Scripting and Function
The scripting and functions are what make up about 50% of this game.…
.
Become a Scripter: Roblox Code Academy
Posted 4 years ago by LoneTraveler
Greeting all! Have you ever wanted to code? Do you wish to learn the basics quickly? If so, then Roblox Code Academy is the game for you!
---
Gameplay
---
As of 7/16/2015,  Roblox Code Academy currently has 7 lessons available for all to try. When you first enter the game, you are greeted with a friendly UI at the top of your screen that tells you your goals for the lesson.

At the end of every lesson, you are given a short and easy quiz to see if you have learned everything that you were taught.…
.
Skies of Robloxia, a Guns of Icarus Remake
Posted 4 years ago by Aedranoth
Guns of Icarus is an indie game that was created by Muse Games and is available through Steam–Skies of Robloxia, not to be confused with Sky of Robloxia, is a ROBLOX game created by pa00 that is inspired by Guns of Icarus and is available on ROBLOX. pa00 is famed for "Framed!," one of ROBLOX's most favorited games. (And yes, that was intentional if you were wondering.)
Gameplay
Take to the skies in this steampunk/victorian-future airship game. As of now in Alpha testing, you can already play on six different ships: Swan, Manta, Hammerhead, Vulture and the Albatross.…
.
Mad Studio Strikes Big with their Newest Game
Posted 4 years ago by Ziggyblock
Loleris has done it again! Mad Studio has pushed their way to the front page with their newest game, Mad Games. Not all of their games are as huge hits as their 30+ million times visited The Mad Murderer, but this one seems to be on it's way to being one of the their best. After being only out for a short period of time, the game has already raked in over 1 million visits.  This time around you get a little bit of everything.…
.
Dodgeball is Back With More Fun!
Posted 4 years ago by Superale24
Hello readers! I started writing this article as soon as the launch party started! Alexnewtron has yet again cooked up a great game with an amazing hype, and boy was it well deserved! DODGEBALL is a remake of his original dodgeball game, but with more features and excitement! I'll be covering every detail; from gameplay to the store. Here is DODGEBALL!
---
Gameplay DODGEBALL is pretty much self explanatory and very simple:
Using balls to launch at your enemies, you must eliminate the other team.…
.
PEARS to PAIRS
Posted 4 years ago by MattkipMedia
So anybody here ever heard of a little game called 'Apples to Apples'? I have, and honestly, it's a blast. Essentially, one player picks a green card, an adjective, and each other player has a hand of six red cards, nouns. Each player picks a red card that relates to the green card the most, and it's an incredibly fun party game where you have to gauge how funny a card is between how accurate it is to the adjective.
For example, about a week ago, I was playing a game of Apples to Apples.…
.
Posts in this category cannot be found.